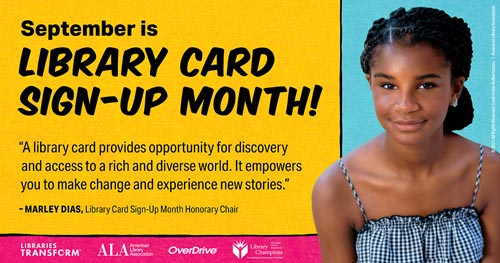 What's in the Cards this Fall? September is Library Card Sign-up Month
The American Library Association (ALA) and libraries across the country will be celebrating Library Card Sign-Up Month this September. The month-long spotlight promotes the power of a library card which, in addition to a world of books, enables patrons to access technology, media resources, and an array of fun and educational programs. A library card provides a gateway for people of all ages to discover, explore, or pursue their interests, passions, and dreams. And, it's free!
Library Card Sign-up Month is the perfect time to re-engage with your library's patrons, old and new as more people return to regular activities this fall after keeping closer to home during the pandemic. It's important for libraries to focus on reconnecting with patrons who are looking for the books and activities at their local libraries (and to also continue to enjoy any virtual programs), as you forge a stronger bond with your community in the months ahead.
This year, ALA's honorary chairperson for Library Card Sign-up Month is Marley Dias, author, executive producer, and founder of the 1000 Black Girl Books Resource Guide. Ms. Dias places emphasis on the bigger picture -- that by signing up for a library card, individuals are provided with access to technology, multimedia content, and educational programming that can actually transform lives and strengthen communities.
Ways to Promote Library Sign-up Month & Attract Community Members to Your Library:
Post about it on your website. Encourage those with a card to come back to the library and all it offers, and those without a card to come by and sign up for a library card to take advantage of all the exciting things you offer. Remind new people it's free – as are the numerous activities you host.
Email current cardholders who haven't been active for a while to remind them the library is there for them – offering books, activities, virtual presentations, and more.
Engage people on your social media, asking them:What does your library card mean to you?
Re-connect with younger patrons with a contest, i.e., a short essay on What I Love About My Library.
Post on other community sites and social media feeds that your library welcomes new patrons and encourage people to come in and sign up for their card.
Set up at outdoor locations in your area – parks, schoolyards, farmer's markets, and more to encourage on the spot sign-ups.
Offer online card sign up? Be sure to publicize that as well.
You can learn more at the ALA's website where they have attractive graphics (in English and Spanish) sized for all social media platforms and websites, plus suggested posts and hashtags to help libraries spread the word. They even offer the chance to win posters and a gift card as your library promotes Library Card Sign-up Month in your community.
At PermaCard, we love a good read and a great looking library card! To learn more about cost-effective library cards that reflect your institution's brand -- and our complimentary library card design services -- contact one of PermaCard's' experienced account managers for more information and inspiring card samples to show how engaging, expert designs can enhance your library's image.