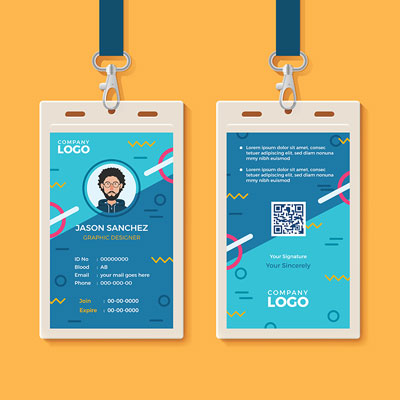 There's a Badge for That! Custom Credentials for Ticketing, Events & More
Custom badges and credentials set the tone at sporting events, concerts, conventions, and more. In addition to creating an exceptional look for VIP-level guests, custom badges give you the ability to offer an exceptional experience to other attendees in a variety of event applications. Customization also creates a lasting impression of your team, venue, or organization, and custom credentials do double duty as souvenir keepsakes of your game, concert, or special event as well. Designs can match your brand or event theme and include scanner-friendly barcodes for access and tracking. Below we'll take a look at ways to incorporate custom badges to elevate your image and complement an array of events.
Enhanced Season Ticket Holder Credentials
Eliminate unreliable and costly ticket pouches with a superior design that rewards your season-ticket holders with a sleek keepsake credential; an impressive look that lets diehard fans preserve their piece of your team's history and conveniently provides your season schedule right on the badge.
Commemorative Game Tickets
Celebrate and mark the importance of particular games, including major team rivalries, Mother's Day or Father's Day game day tributes, team anniversary events, and more -- all while creating an exceptional keepsake for your loyal fans.
Memorable Event Credentials
Special functions deserve special badges that provide stylish, statement-making access to college orientations, conventions, awards dinners, charity fêtes, festivals, and conferences. Use your custom badge to provide additional information such as sponsor logos, college departmental contact numbers or campus maps, performer websites and social media handles, corporate or donation websites, business resources, and more.
VIP Passes
Nothing rivals the true VIP experience of having an exclusive badge that identifies top-tier fans, guests, honored speakers, and more. Create a noteworthy look for concerts, festivals, business expos, and other events that draw VIP-level participants and provide them with the enhanced credentials they deserve.
Staff & Security Badges
Make sure your team members stand out on the expo floor or at the stadium, arena, concert hall, and more with eye-catching custom badges that identify them for your guests' convenience.
Custom credentials are a smart, impactful way to build a lasting image and foster brand, organization, artist, or team loyalty. PermaCard offers customized badge options in an array of sizes, including chic die-cut designs. We also feature coordinating lanyards to complete the look for your next important happening or upcoming season.
Make your guest credentials as memorable as your special event or games! PermaCard creates fabulous and functional custom badges for every event application. Contact one of our experienced account managers for more information and to This email address is being protected from spambots. You need JavaScript enabled to view it. for reference and inspiration. For convenient one-stop shopping, PermaCard provides This email address is being protected from spambots. You need JavaScript enabled to view it. for library cards at no additional charge, so be sure to ask for library cards designed by our talented in-house team as well.