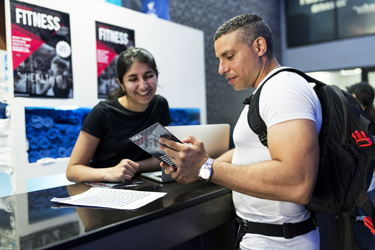 Stay in Step with New Year Resolutions
Fitness Key Tags Streamline Your Operations as Members Tackle their Goals
Key fob-style plastic fitness key tags are a breezy way for your customers to always have their member ID handy to scan and check in to your health club, climbing gym, or yoga studio.
Whether you operate a fitness facility, spa or other member-based business, scannable key tags can easily integrate into your day-to-day functions and are compatible with a variety of today's fitness, entry, and point-of-purchase software. Freeing up your reception desk staff from tedious look ups or simply allowing access to 24/7 spaces, these convenient plastic tags can be programmed with member data for ease of use, simply swiping in with a barcode reader.
Collecting customer data with barcodes or QR codes printed on your key tags also enables your fitness business to quickly track and view all your member or customer info. This can include revealing peak usage hours at your facility, logging the time an individual last checked in, how often a member accesses the facility, what classes members are attending, and when memberships are coming due – so you can be sure to regularly follow up for renewals. Since you've already invested in your company's software, why not utilize it to the fullest to more accurately gather member usage data, reduce access point staffing, and free up staff for other front desk functions such as membership, juice bar, and clothing/gear sales.
Businesses that Benefit from Key Tags
Gyms, health clubs, and rock climbing gyms
Yoga and Pilates studios
Spas, pools, and beach clubs
Resident clubhouses
24/7 facilities, enabling easy access for members
What Your Key Tag Should Include
Your logo, clean and prominently displayed
Unique barcode to scan in the member or patron (at the front desk or access point)
Signature strip (if desired)
Your business address/contact info (which can also aid in lost keys being returned to their owner)
Reinforce Brand Image, Promotional Messaging & More
While your staff might simply provide a key tag when a someone joins your fitness facility, your business can choose to deliver them in a more promotional or informational presentation. This can include providing your perf off key tag(s) on a larger format plastic mailer or handout, or as a convenient add-on to a more traditional membership card.
Larger pieces can include messaging about your business, locations, hours, class schedules, facility rules, workout tips, and more and can be kept for reference by the recipient after they perf off their key tag. Or, in the case of the classic membership card, this can be kept in a member's wallet while your business also provides them with a key tag option for quick access. Multiple perf off key tags allow spouses and other family members to utilize the same household information for family membership programs.
If your fitness business is looking for an efficient way to quickly log in and/or track members data and usage, contact one of PermaCard's experienced account managers for more ideas and to receive a sample pack of key tags and more for reference and inspiration.