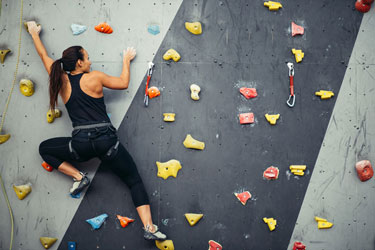 Spotlight on the Climbing Industry: Plastic Cards & Tags Reach New Heights
As many sport and fitness facility owners in the U.S. start to rethink and reopen their businesses, we'd like to take this opportunity to examine the ways club owners can engage and meet the needs of their members with smartly executed belay and lead tags, membership cards, and key tags.
Upwardly Mobile: Belay & Lead Tags
A must when it comes to skills verification, belay and lead tags are essential to the climbing experience. Designing these tags with a look and feel that meets your brand image gives you added exposure and fosters member loyalty as tags are proudly displayed on the climber's harness. Tags in different colors, shapes, and sizes can really customize the look for every level.
Rock Their World: Membership Cards
As we've noted in past blogs, membership cards "live" in a member's wallet and will be a branding piece for your business, even if your members also utilize a key tag. Cards should prominently display your logo and include any key bullets relevant to the level of membership and/or hours and location. Scannable membership cards easily integrate into your business and work with your check-in software.
Keep Them Looped In: Membership Key Tags
A handy way for members to check in without opening a wallet or bag, like membership cards, scannable key tags also work in tandem with your business processes and check-in software. Although smaller in size, your logo can still be featured prominently on the tag along with brief facility or membership details.
Be Boulder, Uh, Bolder: Membership Card/Tag Kits
If you're looking to provide members with options, then a plastic piece with am integrated membership card and key tag lets them chose how they can check in. The membership card goes in their wallet and will always have a lasting impression and can be referred to for relevant information, while the key tag gives them another way to scan in.
Harness the Power of Gifting: Plastic Gift Cards
With your members enjoying all you offer, chances are their friends will too. Physical gift cards offer an impressive look and are a terrific way to encourage club enthusiasts to gift friends and family with an unforgettable experience, one that will help bring in new members as well.
For Climbers On the Fence: Punch Card Packages
For those who can't quite commit to a full membership or want to try out your facility first, a Punch Card program with bulk priced options is just the thing to rope them in. Try offering discounted punch cards with 5 or 10 visits to get them started.
Remember, image and functionality count -- so be sure your membership cards and tags work to enhance your business and keep your members engaged.
Rock on! If your climbing business is in need of quality belay tags, lead tags, membership cards and key tags, contact one of PermaCard's experienced account managers for more ideas and to receive a This email address is being protected from spambots. You need JavaScript enabled to view it. of cards and tags for reference and inspiration.