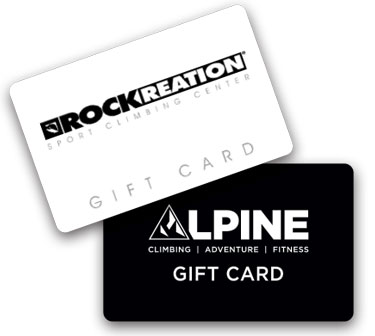 Shape Up Sales as You Head into the New Year
Now is the time for health clubs and rock climbing gyms to prepare for the year ahead. More and more people are heading back to fitness facilities to shape up after countless months of pandemic related issues and delays. They want to lose that extra weight, tone up, and feel better, so their New Year's resolutions for 2022 are the key to your sales and success. With more individuals looking to be proactive about fitness, gift cards will be popular this holiday season to give to and receive by anyone with health and fitness goals for the coming year. Gift cards are also a recommendation and a sign of loyalty to your business when your current members choose to gift memberships to their friends and family.
In addition to helping to expand your business with new customers, gift cards provide your facility with the highly valuable asset of cash up front. That's right, gift cards help drive revenue now. In the current economic climate where fitness facilities are slowly regaining their footing after pandemic-related downslides, increasing revenue in the here and now is more important than ever.
Plan Ahead: Gift Cards + Key Tags
Gift cards are always a thoughtful gift, especially now with so many people settling back into a regular routine. You certainly don't miss out on any opportunities to boost revenue, so be sure to have a supply of gift cards in-house to meet seasonal demands. Naturally, with new members comes the need for more key tags, so you'll need to replenish your stock for the coming year's new business as well.
Successfully Market Gift Card Sales
Place table tents promoting gift cards on your reception and sales desks as well as on vanities and other spots in your dressing rooms.
Utilize social media and your member email list to further promote gift card sales.
Educate your staff so they can confidently field any questions and secure gift cards sales.
Incentivize members to purchase gift cards. Offer one month free added to their current membership with each card they purchase. (Note: You can always limit this to a maximum of 3 months, etc., whatever works best for your business.)
Include gift cards in upcoming advertisements. If you typically run print or broadcast ads, definitely include holiday season/New Year's gift card messaging in late November and December.
Expand Gift Cards to include personal training sessions, massages, or other services available at your facility – this is a great way to upsell membership gifts and maximize all you offer.
Tie gift cards to fundraising for worthy causes. If your area has a local toy drive or other worthy holiday fundraiser or if you want to support regional or national cause, such as a children's hospital, consider running a limited time holiday promotion highlighting that you will donate 10% of proceeds (or whatever percentage you wish) from the sale of gift cards during the set period.
Gift Card Design Tips
Create gift cards with a generic design for year-round use and consider creating a second lot of cards with a special design for holiday season gifting.
If your facility can offer a few different options, this provides more ways to gift at varying budgets. Offer different pricing/gifting options based on membership levels or lengths -- i.e., standard memberships for a set location and premium memberships that allow use at all locations (for chains); 3 month, 6 month, and 1 year membership terms, etc. Climbing gyms can opt to offer a set number of day passes (3, 5 or 10) including gear and/or memberships by the number of months.
Gift cards are an extension of your brand image so the design should incorporate your identifiable colors, logo, and tagline. Include your address (and/or website, especially for chains with multiple locations) so card recipients can easily find you. Remember, great looking cards make great looking gifts!
Pump up sales for the coming year! Contact one of PermaCard's' experienced account managers for more information and This email address is being protected from spambots. You need JavaScript enabled to view it. of gift cards and membership key tags for ideas and inspiration along with table tanks (aka table tents) to place in key areas at your facility. PermaCard also offers This email address is being protected from spambots. You need JavaScript enabled to view it. for convenient one-stop shopping, so be sure to ask for samples designed by our talented in-house team as well.