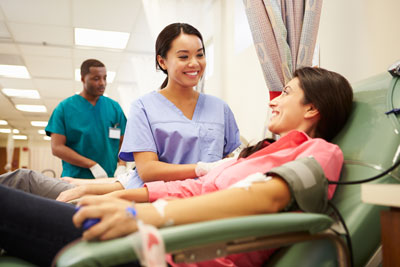 Promoting Blood Donation: Get the Word Out & the Donors In!
In honor of World Blood Donor Day which is celebrated annually in June, we're focusing on the importance of promoting blood donation in your community as well as thanking local donors for their life-saving gift of much-needed blood. Since 2005, countries around the globe have commemorated this special day to raise awareness of the need for blood and to salute the individuals who selflessly volunteer and donate their blood to those they do not know.
Blood Donation Facts
There are 8 eight different blood types: A+, A-, B+, B-, O+, O-, AB+, & AB-
O- is the universal donor & is highly needed at all times
A person can give blood every 56 days
Every 2 seconds someone in the U.S. needs blood &/or platelets
PermaCard is proud to be a part of engaging communities with mailers and products we've created for blood donation organizations. We'd like to spotlight our local blood bank, The Blood Connection. TBC is an organization that operates 35+ community blood donation centers in South Carolina, North Carolina, and Georgia. As their website explains, "Blood sustains precious human life. Its presence and flow allow us to seek the purpose of our existence and attain life's milestones. Our mission is to support our healthcare partners with adequate, safe, cost-effective blood supplies and services. When we share blood, healing happens; individuals thrive, and families remain whole. Giving blood enriches our life experience, casting aside our differences to link the human race through a common, natural bond." PermaCard greatly respects and appreciates The Blood Connection's work as well as the work done by other organizations like them around the country.
Drawing inspiration from this vital organization, for nearly a decade the PermaCard team has created promotional mailers, key tags, local donor tags, direct mail pieces, and more. We are moved to be able to help TBC promote its efforts to collect the blood that is essential in helping the communities they serve, including our own.
As part of TBC's Lifesaver's Club, after donating, blood donors can register on their website to receive a special Donor ID card, which is produced and fulfilled by PermaCard. Similar to a library card, the card is used as a membership pass each time an individual donates blood. The back of the card includes the person's first name, last name, and blood type, plus a specialized bar code containing their information. The face of the card lists their blood type along with a QR code that links to a page with more information about their blood type. When donors go to a mobile donor bus or to one of the centers to donate blood, they simply show their cards, making the registration process faster. As one of our staffers used to work at TBC, we know firsthand that donors "love their cards and always comment about how fun they are and what a great reminder it is for them to give blood." It's rewarding to know these cards help make a difference in people's lives, for both donors and recipients.
(Speaking of that page with blood type information, we thought we'd share it here because it's interesting to learn about your particular blood type, how many others have it, and the ways your blood can help others.)
Additional blood center-specific projects include:
Local Donor Tags which are attached to bags of blood so area recipients and their family members can see that someone in their community donated the blood that is aiding them or their loved one.
Key Tags that perf off of plastic mailers promoting blood donation and serve as a reminder to donate blood and where to find a nearby location.
Magnets Integrated into marketing mailings that provide a useful and highly visible reminder to donate.
Direct Mail Marketing Pieces targeting donors and prospective donors.
Badge Buddies are used to identify common donor eligibility regulations and provide brand continuity.
Let PermaCard help promote and grow your donor program. Contact one of our experienced account managers for more information and to This email address is being protected from spambots. You need JavaScript enabled to view it. for reference and inspiration. For convenient one-stop shopping, PermaCard can provide This email address is being protected from spambots. You need JavaScript enabled to view it., so be sure to ask for donor-centric materials designed by our talented in-house team as well.