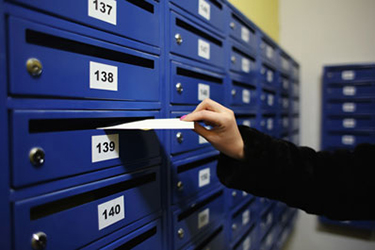 Postage-101: Mailing Options for Your Business
As a business owner, you recognize the importance of direct mail and membership fulfillment packages but it can get pretty tricky at times, staying on top of the postal regulations and rate options. We've dedicated this piece to outlining all you need to know to keep your mailings on time, on target, and cost effective.
Time Sensitive Mail
Planning ahead is a must for special offers, timed enrollment periods, sale day(s), or promotional codes with an expiration date or if you need to send new member packets on a timely basis. There's nothing like getting an offer in the mail with little or no time to respond or waiting for membership materials to arrive, so you've got to mail swiftly and early. Depending on the urgency of your offer, look to get your pieces into the mail no less than 3 weeks prior to any offer expiration. Make sure mail pieces are in-hand by a date that leaves customers time to act or respond.
Mailing Lists
If you're using your own in-house mailing list, update the data as change of addresses come in from customers or when mail is returned from the post office. Use your customer/contact management software to develop, organize, and maintain this information. Additionally, request sign ups in a guest book or collect business cards at your location, and be sure to get email addresses for future use as well. Remember, the simplest way to obtain your customer's information is at the point of sale.
If you're renting a mailing list, source a reliable list broker with fresh, valid data. Ask other business contacts about their experiences with brokers and get recommendations. To best reach your target audience, select any available criteria that is appropriate to your customer base (i.e., location/zip, average income, and any past purchases or interests that may be available, etc.)
Every Door Direct Mail
An efficient, economical way to mail to people in your area through zip codes and postal routes, EDDM is a great alternative to costly mailings. It allows a business to expand its reaching use saturation mail, without requiring mailing lists, permits, or paying any associated costs. However, it should be noted that the mailpiece is NOT personalized with the recipient's name but this also lightens your workload and reduces mail preparation costs. For new business solicitations, special offers and sales, menus, announcements, and other mailings that don't require an addressee's name, EDDM is a great way to get expanded reach in the area(s) you desire.
EDDM must consist of a minimum of 200 pieces (or weigh 50 lbs. or more), up to a maximum of 5000 pieces per day per 5-digit ZIP Code. Find complete EDDM details at https://www.usps.com/business/every-door-direct-mail.htm.
Standard vs. First-Class Mail – a quick look at the different options.
Standard presort mailings are less time sensitive than First-Class mail and mail at a reduced rate. A majority of business mailers (with the exception of nonprofits) regularly mail marketing and promotional materials at the Presort Standard Letter-sized Mail Rate, the most common class of "bulk" mail. Mailings must consist of at least 200 mail pieces (weighing less than 16 ounces each) and all must be identical in content, size, and weight. The USPS divides presort-eligible mail into two categories, Standard and First-Class. This makes it possible to send "bulk" presort First-Class mail at a reduced rate as well (at a cost that is approximately 20% less than regular First-Class mail).
Lastly, First-Class mail, meaning applying First-Class postage -- currently 55¢ for a letter sized piece weighing 1 ounce or less (i.e., Forever Stamps used on letters) or 50¢ for metered mail -- is the typical mail category most people are familiar with and utilize for personal and business mailings (when not sending large promotional mailings). First-Class mail is used for postcards, letters up to 3.5 ounces, and large envelopes or small packages weighing 13 ounces or less. Additional postage for mail pieces above 1 ounce is currently 15¢ per ounce. First-Class is less expensive than Priority mail and takes an average of 1 to 3 days for delivery, depending upon distance.
To delve more into the various ways to mail and find current mailing requirements and rates, visit the United State Postal Service's info-packed Postal Explorer web site at: https://pe.usps.com and find more business mailing info at https://www.usps.com/business.
Looking to reach your customers and members in a standout way by mail? Contact one of PermaCard's experienced account managers for more ideas, learn what attention-getting plastic mailers meet USPS requirements, and to This email address is being protected from spambots. You need JavaScript enabled to view it. pack of mailers for reference and inspiration.