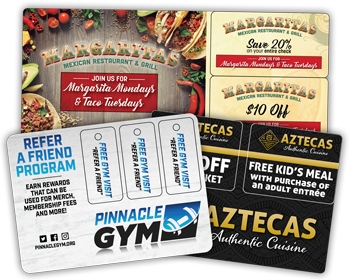 Plastic Postcards Yield Higher Returns
Despite a booming digital marketing space, direct mail is far from dead! Simply stroll over to your mailbox to confirm it's alive and well, promoting an array of businesses, products, and services. A recent Forbes article notes, "Direct mail marketing continues to deliver a personal and tangible alternative for customers suffering from screen overload, which will be more important than ever as the country slowly returns to normal. It allows small businesses to reach customers in their community at home, where they spend their time, providing a physical touchpoint of their message."1
With so many people experiencing digital burnout from emails, Zoom calls, group chats, team and project interfaces, and sitting in front of their computer for hours on end -- now more than ever -- an engaging mail piece is most welcome. So, with all the competition out there vying for consumers staying closer to home, working from home, or working on a hybrid home/office schedule, plastic postcards offer a standout way to capture and build on their attention.
Sleek, shiny, and boldly displaying colors, logos, art, and punchy copy, plastic postcards really pop in the mail. The superior visual and tactile appeal garners higher response rates as these pieces are immediately perceived as having greater value, much like the membership cards and IDs people carry in their wallets.
Plastic cards receive "an average of 8 to 10 percent higher ROI," explains Amanda Marcengill, Sales Manager at CBS Marketing Solutions, Inc./PermaCard, the source for plastic postcards for clients in diverse industries. Sometimes returns are even higher, which further supports utilizing plastic instead of traditional paper postcards.
Engage Your Target Market with Plastic Postcards
Die cut plastic postcards enable businesses to include perf off coupons, key tags, discount cards, and more. Copy should be quick and to the point with any offers or a call to action, front and center. Plastic postcards can serve as an attention-getting marketing vehicle for:
Restaurants. Engage new customers and expand on customer loyalty with a perf off discount card or key tag (i.e., 10% off Tuesdays thru Fridays; buy 1, get one half off) or loyalty card (i.e., free entrée after 10 purchases), etc. An attractive plastic card slips neatly into wallets or purses, while key tags always travel along on the keychains of your target customers. A well-designed plastic postcard will help get patrons back into your establishment after the long period of pandemic uncertainty.
Beauty Salons & Spas. In a similar fashion to restaurant promotions, enticing offers such as purchase 6 blowouts or massages and get your 7th free, discount Tuesdays, etc. will help bring customers back in the door.
Schools & Organizations. Fundraise and promote team sports or other special events by including perf off coupons to be used at participating local businesses who will donate a portion of the purchase to your cause. It's a great way to get the community involved and win-win all around!
Gyms. Attract new members with a 3-day pass that perfs off from your plastic postcard. Unlike a paper postcard, substantial plastic cards with greater perceived value will help drive new prospects to your facility.
To learn more about business-building plastic postcards and the various perf off configurations, contact one of PermaCard's experienced account managers for more information and to This email address is being protected from spambots. You need JavaScript enabled to view it. to see how compelling designs can enhance response rates, attracting customers, old and new to your business, products, or services. PermaCard also offers This email address is being protected from spambots. You need JavaScript enabled to view it. for convenient one-stop shopping, so be sure to ask for sample plastic postcards designed by our talented in-house team as well.