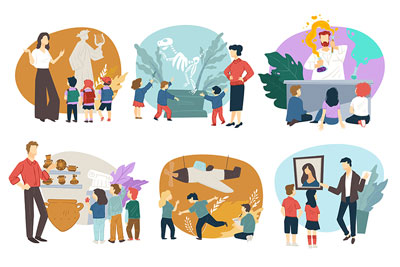 Membership Mailing Options that Work
Exhibits and lions and members, oh my! At PermaCard, we work with numerous member-driven organizations including museums, zoos, professional associations, and more. The one thing they all have in common is the need to communicate swiftly and effectively with their member base. It's essential to quickly provide new and renewing members with the materials they need to enjoy the benefits of their membership and feel they are part of a meaningful organization, with a relatable image that gives them a good reason to belong.
The only difference is that some organizations fulfill member materials in-house while others outsource. How your member kits are fulfilled depends on the size of your membership base, the growth rate, and frequency of new memberships, your in-house capabilities and equipment, and your available staffing. Below we'll review different methods and products utilized by small, medium, and large organizations to get their materials into the hands of members on a timely basis.
Membership Mailing Solutions for Organizations of All Sizes
Membership Cards: Cards are the standard for providing members with a vital sense of belonging to your organization. Besides featuring member info and ID number or barcode (if applicable) on the front, along with some member benefit bullets or helpful info upon a glance at the back, plus contact information (address, phone number, and/or website), membership cards are integral to the image of any organization, large or small. Cards can be integrated with letter carriers and other inserts for a complete membership package or can be fabricated as part of an engaging plastic mailer for a sleek-looking, standout membership piece that slips neatly into a double window envelope along with your letter.
Key Tags: Speaking of plastic mailers, key tags are a smart, convenient enhancement to your membership package and perf off the attractive 20 or 30-mil mailer along with your card. Key tags travel with members wherever they go, are easily within reach on a keychain, and are a handy, welcome addition to your new member kits.
LaserWell® Mailers: A professional, polished look for in-house do-it-yourselfers, the LaserWell Laser-Printable ID Card Document features a technically sophisticated card and carrier design that easily prints on most laser printers and production class toner presses, jam-free. Best of all, the card component is NOT made of paper and features your choice of an 8 or 11 mil waterproof opaque white rigid synthetic card providing a superior, upgraded look to in-house mailings. This quality on-demand printing solution enables easy personalization and the letter carrier can be pre-printed with your letterhead (4-color at no added charge) and welcome letter. Or, you can opt for pre-printed letterhead only for added flexibility for memberships and renewals.
When Outsourcing Makes Sense
Outsourcing membership mailings can be beneficial, freeing up time and staff to focus on more pressing organizational issues. Additionally, with the current work-from-home environment and hybrid office schedules, many organizations have turned to outsourcing to stay on top of their member mailings. At PermaCard, we can provide turnkey services for complete printing and fulfillment of your membership packages or furnish our expert services for any component of your membership process, such as printing cards or plastic mailers that we then ship back to you.
Whether you're already outsourcing, fulfilling materials from your office, or maybe on the brink of outsourcing and trying to decide if the timing is right, there is an optimal membership fulfillment solution for every organization – and, always ways to do things better. Exploring your options is the first step to your successful membership program and finding a provider that can answer your questions, provide examples, and possesses the experience to help you determine what's right for your organization, your goals, your staffing, and your budget is key.
Ready for a new approach to membership materials? Let PermaCard review and recommend the best options for your organization. Contact one of our experienced account managers for more information and to This email address is being protected from spambots. You need JavaScript enabled to view it. of membership materials for reference and inspiration. For convenient one-stop shopping, PermaCard can provide This email address is being protected from spambots. You need JavaScript enabled to view it., so be sure to ask for membership kits, cards, key tags, mailers, and more designed by our talented in-house team as well.