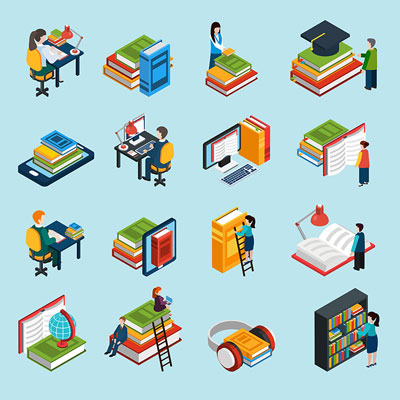 Library Cards: Benefits Beyond Books
Through the decades, America's libraries have evolved to play more meaningful roles within their communities. Beyond discovering and borrowing books and media or finding a quiet spot to work on a school paper, a library card holds valuable benefits for people of all ages. Libraries are neighborhood institutions that individuals and families depend on. They make a difference in people's lives with access to programs, tools, technology, and spaces specifically designed with the public in mind.
Access to Technology
Computers haven't only changed how libraries conduct business; it has become integral to the community, with libraries providing technology for patrons to use throughout the day. While many take access for granted, some people cannot afford computers or the internet for socioeconomic reasons, so accessing technology at their local library is life-changing. For example, each branch of Oregon's Jackson County Library Services has Internet-capable computers loaded with Microsoft Office programs, Wi-Fi, and printers available to the public. Additionally, with many libraries offering classes on how to use computers and software/apps, this truly opens new worlds.
Invaluable Programs
Diverse programs at local libraries also provide vital benefits. From programs expressly designed for children, tweens, teens, adults, and senior citizens to arts initiatives including plays, poetry readings, live music, and more, libraries offer community members of all ages diverse ways to enjoy activities, connect with others and open their minds with a new craft, stories, music, and more.
Nebraska's Hastings Public Library hosts a variety of engaging programs, including Author Talks and Bilingual Story Hour. There are also tools for the crafty community with PIXLab, giving individuals reserve time to use its heat press, large format printer, laser cutter, 3-D printer, embroidery machine, sewing machine, and more.
Educational Opportunities
Honing in on community needs, many libraries offer programs that expand knowledge. ESL courses, college prep, and tutoring are among the educational benefits available.
California's San Diego Public Library has a program, Admit One: College Prep Academy, that allows high school students to sign up for a 6-week course to prep for the SAT or ACT. The classes are free to library cardholders. The Miami-Dade Public Library System in Florida offers homework help and tutoring programs every Saturday throughout the summer. The program is extended to all students in grades K-12.
Inviting, Well-appointed Spaces
As libraries renovate and expand, more focus has been given to what patrons need in the way of space. Beyond the open spaces and stacks of the past, today's libraries now feature separate work areas, computer rooms, study rooms, classrooms, and event spaces for the library, local groups, and individuals to utilize. Library designs have evolved to create unique, functional areas that best serve their communities.
Cleveland Public Library features an array of spaces to study, hold a community meeting, or plan a professional conference. They offer small group meeting spaces and community spaces for medium-sized groups with some after-hours slots available. The main branch Learning Commons space, for groups of 50+, can be reserved for conferences and events outside library hours and offers AV tech support.
Engage your community with all your library offers, starting with the library card. If your library needs appealing, user-friendly library cards, key tags, bookmarks, and durable tabletop promotional pieces perfect for programs and events, learn more about PermaCard's turnkey services and expertise by contacting one of PermaCard's experienced account managers. We'll send a This email address is being protected from spambots. You need JavaScript enabled to view it. of library cards, key tags, badges, and more.