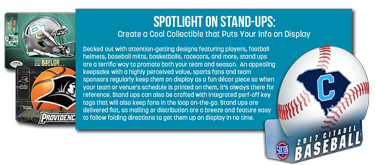 Keep Sports Fans In-the-Know… & In Your Stands
In honor of March Madness, we thought we'd shift our focus to sports fans. This enthusiastic audience is super loyal and absolutely loves a giveaway or souvenir – making them perfect for marketing your team, schedule, and special events. Their support helps spread awareness, by word of mouth and with the items they carry, collect, and/or share with friends. This is where your team, event, or arena can leverage cards, key tags, stand ups, and more as vital promotional tools that are well-received and greatly appreciated.
Eye-catching Promotions Score Big with Your Fans
Here are some easy to execute ways to implement and maintain an on-going presence with your fans:
Review What Others Are Doing
Membership Cards – Offer special perks to your fans, alumni, and team families for consistent marketing and keep them coming back to cheer you on.
Sports Key Tags – Small but powerful and key to keeping up game attendance! Print your season games on a tag that your fans will carry with them and see all the time.
Stand Ups – Stand-ups are a memorabilia keepsake and can be utilized as a convenient reminder of your schedule.
Placemats – Use a great graphic along with a list of this season's games on a laminated placement and you'll find these popping up in man caves throughout your town or region! They also make a great giveaway on game night and can be utilized by any dining establishments that sponsor your team.
Luggage Tags – A team branded tag is a great premium for alums, boosters and sponsors as they travel – and show their team spirit.
Seating Charts – For teams who play in larger arenas, a wallet-sized card with your seating plan is helpful – and you can include your schedule right on back.
Season Schedule – Whether you print your schedule on any of the above and/or create a special laminated postcard mailer with perf off elements (such as membership cards and key tags) and send to past ticket purchasers promoting dates, season ticket sales, and more, it's vital to get your dates out there in an engaging way to all the people who've previously supported your team.
Marketing your team is as important as their training sessions. With a little effort, you can be on top of your game and create winning tools to keep fans cheering your team on as you promote ticket sales and engage with sponsors to support the season and seasons to come.
If your team or sporting event is looking for memorable ways to keep fans cheering you on, contact one of PermaCard's experienced account managers for more ideas and to receive a sample pack of sports promotional cards, key tags, stand ups, and more for reference and inspiration.