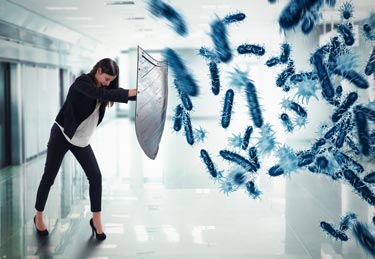 Healthcare Facilities: Antimicrobial Protection Each Day Helps Keep Bacteria at Bay!
Lamination is a natural fit for the repeated cleaning and sanitization healthcare environments demand and make frequently used materials more durable and waterproof. To combat bacteria further in healthcare settings, using high-performing antimicrobial matte lamination offers superior protection for the array of materials that come into direct contact with staff members, patients, and the public each day.
Antimicrobial Protection
In recent years, PermaCard forged a partnership with industry leader Microban® International, Ltd. in order to develop a revolutionary solution for heavily-used laminated materials. For nearly 4 decades, the highly regarded organization has set the standard in antimicrobial technologies and odor control solutions. PermaCard integrates Microban® directly into the substrate during the manufacturing process of laminated ID and access cards, signs, badge buddies, tv guides, menus, and more. This helps minimize the growth of bacteria on the surfaces of materials used in hospitals and other health related settings.
Microban® continuously works to inhibit bacterial growth that can cause stains and odors and helps combat microbes that grow invisibly on frequently used materials that can cause illnesses including Salmonella, MRSA, and E. coli. Ensuring frequently handled items stay cleaner and fresher between cleanings, antimicrobial lamination also helps reduce the risk of premature product degradation, extending the life of your facility's materials.
Frequently used healthcare materials that benefit from antimicrobial lamination include:
Badge Buddies. Laminated Badge Buddies are durable and easy to clean and sanitize and provide necessary information in hospitals, clinics, doctor's offices, and more. Selecting matte lamination featuring Microban® helps combat bacteria, offering added protection from stains and odors.
Public & In-room Laminated Signs. Matte laminated signs with Microban® are easily cleaned and sanitized so they are a perfect fit in healthcare facilities and other high traffic areas where antimicrobial protection is desired.
TV Guides. Patient and their loved ones regularly handle in-room tv guides so there's a ton of wear and tear. Fabricating your facility's guides with antimicrobial Microban® matte laminate helps protect against stains and odors caused by bacteria and stands up well to daily cleaning and sanitizing, helping them last longer.
Chart Covers. Repeatedly used by medical staff, waterproof, easy-to-clean lamination helps keep chart covers neat, intact, and ready for the next use. Choosing matte lamination featuring Microban® adds the antimicrobial protection healthcare settings demand.
Staff ID's & Key Cards. Always hanging or in-hand, it makes perfect sense to include antimicrobial protection for these regularly used cards and tags.
Waterproof and antimicrobial lamination is an important addition to your healthcare facility's materials. From badge buddies to signage, guides, and more, lamination is extremely cost-effective when you consider the extended use of these items and the added durability to withstand repeated cleaning and sanitizing. It should also be noted that regular cleaning and sanitizing does not deplete the effectiveness of Microban's antimicrobial protection.
To learn more about crafting your healthcare organization's materials utilizing high quality matte laminate featuring Microban®, contact one of PermaCard's experienced account managers for more information and to This email address is being protected from spambots. You need JavaScript enabled to view it. to see how you can enhance your materials with this durable option.