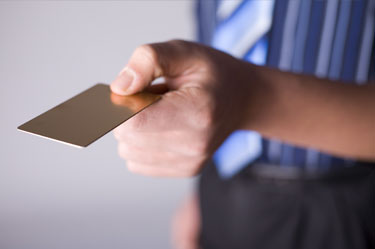 Gotta Hand it To Them
Why Physical Membership Cards are Meaningful
Despite living in a digital world where just about everything has an app, there is something to be said about utilizing a physical membership card for your business. A phone app just doesn't evoke quite the same sense of belonging nor truly conveys that the "user" is a valued member.
Providing your customer with a membership card featuring a substantial look and feel unique to your brand truly offers them an enhanced experience in comparison to directing them to download an impersonal app.
Well-designed membership cards make people feel special – and that's just the type of relationship you want to foster with your customers. It's also a valuable customer retention tool as members are always reminded of their membership with a card in their wallet (or key tag on their key chain) – and are also continuously reminded when they use these cards and tags to access benefits or rewards points.
Your membership card can include a barcode on back for easy scanning and data collection (i.e., track number of visits, purchase history, etc.) Many businesses and organizations have members that will benefit from a combined membership card and app experience. Consider coordinating the two for a digital experience that provides members with past order/visit details, customer service links, special, seasonal and time sensitive offers, and also covers them on the go, should they not have their membership card with them.
Thinking of incorporating a membership program into your business? Wonder how it might fit in? Below are some of the types of businesses that run successful membership programs in a variety of ways. You probably participate in a few of these programs yourself, so think about how your business can provide your customers with an effective membership card that creates added value, retains them, and increases your bottom line.
Businesses Utilizing – & Benefiting from – Membership Cards include
Supermarket and pharmacy discount programs
Retailer frequent buyer rewards programs
Restaurant and hotel member rewards programs
Professional organizations
Community/civic organizations offering member benefits
Gyms, health clubs and spas
Health plan and insurance providers
Libraries and other institutions
Membership Card Musts
Attractive, attention-getting design featuring your logo in a prominent position
Any tagline that defines your business or promotional message
A brief recap of member-only benefits (a short, bulleted list does the trick)
Your business address(es) and phone number or customer service number
Personalization, if relevant for your customer/business

Customer name
Customer number and/or unique barcode
Customer signature panel (if applicable)
Customer photo (if applicable)

For non-personalized cards

Customer number and/or unique barcode
These clear-cut "musts" give your customer a sense of belonging and will make them feel special and appreciated by your business.
About Those Member-only Benefits
When you outline the benefits on your card, it gives members an easy, at-a-glance reminder of why they should frequent your establishment. It's essential for you to develop a list of member perks that will keep your customers coming back, so think about what means them most to them as you devise your member benefits. Is it a discount, a special offer after X visits, a dollar bonus incentive after spending a certain amount, birthday freebies, etc.? This can include one or two main benefits with a few smaller ones. Additionally, in tandem with email, direct mail or advertising, you can also offer card holding customers special benefits and a more personalized experience throughout the year. Carefully develop benefits that make the most sense to your business and your customer base and clearly and succinctly state them on your membership card.
If your card is used to gain admittance or access to your organization, (i.e., a gym membership, library card, or corporate entry application) it is still essential to have a memorable, professional look that establishes your image and value to your member or employee.
Membership cards offer a personal touch that stands out from the digital clutter of today's day to day living. And, that personal touch is something that will help drive your business and keep your customers returning. Additionally, depending on your customer profile, a membership card enables you to provide a completely inclusive experience and does not alienate any patrons who are less adept with today's technology or do not utilize it to the fullest.
If your business is looking to retain customers and enhance their experience with memorable, high quality membership cards, contact one of PermaCard's experienced account managers for more ideas and to receive a sample pack of membership cards for reference and inspiration.