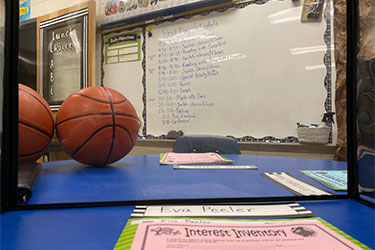 Desk Shields Make Safely Returning to School as Easy as A-B-C
The pandemic has been a long haul for all of us, especially school aged children. With school reopens rolling out across the country, it's essential to add measures to keep students safe.
While older kids are able to follow directions more easily, let's explore ways to keep younger ones safe as they return to school.
Steps to Enhance Elementary School Safety
Keep parents abreast of all school policies and be ready to answer questions about what is being done at your school to take precautions.
Promote mask wearing by all students, staff, and adults dropping off or picking up kids. Make masks required in drop off/pick up areas, in the school building and classrooms, and on the school bus, if applicable. Consider adding a few 5-minute "mask breaks" outdoors during the day, keeping the kids socially distanced as they take their masks down for a few minutes at a time.
Place hand sanitizer/sanitizing stations where children, teachers, and other school employees can easily access them. This includes in the classroom, offices, hallways, and near entrances and exits.
Utilize convenient, affordable, and easy-to-use clear desk shields on all student and teacher desks. Best of all, they easily wipe clean so sanitizing is a breeze.
Desk Shields: The Clear Choice for Safer Classrooms
Clear desk shields provide the separation you need in your classrooms, offering protection for both students and teachers. They simply fold out, stand easily, and provide coverage on 3 sides. After use, they neatly fold flat for easy storage. Ideal for elementary schools, these handy safety shields can also be used in other academic settings, testing and tutoring centers, offices, hospital/medical registration areas, and more.
Desk shields feature a crisp, clear view, are light weight and durable, plus, can be easily cleaned and sanitized with an array of products, without damaging the plastic shield or vinyl borders.
When the desk shield is use, the center panel stands 18" tall x 20" wide while each of the two side panels are 14" wide. Each side panel is built with a stabilizing board that also works as a privacy screen during test-taking. These convenient desk shields do the trick and provide a far less expensive alternative to plexiglass and costs even less than low-quality cardboard options made with cellophane screens.
To learn more about affordable, crystal clear desk shields, contact one of PermaCards' experienced account managers for more information and to This email address is being protected from spambots. You need JavaScript enabled to view it. shield to see how you can protect the students and teachers at your school. Discounted pricing begins at quantities of 25 or more, making our easy-to-use desk shields a viable safety solution for your school.