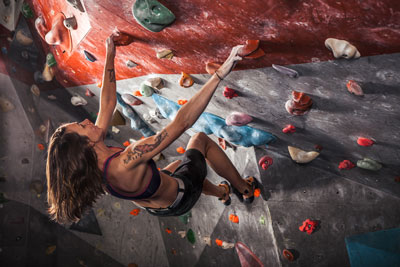 Climb to the Top with Direct Marketing
In recent years, climbing gyms enjoyed continued growth nationwide. While the pandemic caused some gym closures, others opened or expanded in 2020 and 2021, notes Climbing Business Journal's Gyms and Trends 2020 report. Now that people have resumed leisure and fitness activities, it's time to reassess your facility's direct marketing efforts. This includes utilizing direct mail, member referral cards, and day/hour passes to grow membership and enhance your presence in your community.
Below, we'll review prospects, address their concerns, and easy-to-implement ways to directly market to potential customers in your area.
Target Audiences & Their Needs
Do your marketing materials make new climbers feel they'll be welcome and cared for? Many newcomers only go to a climbing gym once so insecurities must be immediately dispelled. Let prospects know your staff will provide a comfortable, attentive environment and help them achieve their goals.
If your gym welcomes families, are you properly marketing to area parents? This growing segment shouldn't be overlooked. Addressing insecurities is especially applicable to this audience. Even if your marketing encompasses children, are you effectively encouraging family participation, with specific offerings geared to parents and kids seeking fun, healthy activities?
First impressions count! To build a trusting relationship with new prospects, focus on newcomers, including families with children. Meet their needs with additional attention plus easier access (i.e., a 3-hour pass vs. a full day pass.) More effective pricing structures and loyalty programs can also help secure repeat business and membership commitments.
Direct Marketing Made Easy
Direct Mail. Reach prospects with targeted mailings. If purchasing a mailing list, use a reputable company for accurate lists based on age and other relevant data (i.e., a household with school-age children, etc.). Additionally, the U.S. Postal Service's Every Door Direct Mail program lets you cost-effectively target local zip codes. While less specific (no age/interests options), it's a great way to reach multiple households in your area.
Here are some ideas for compelling, offer-specific mailers:
Limited Time Offer: A free half-day pass coupon with an expiration date is your opportunity to introduce prospects to your facility.
Membership Options: Special offers on different membership levels – i.e., 1, 3, 6 months, and annual memberships, plus private sessions and other packages provide potential customers with different ways to join your gym. Get people in your door with enticing trial offers, special limited-time deals, and different ways to join.
Attract Kids & Families: If children are part of your business plan, target parents with mailings about enjoying a healthy, family-oriented activity, fun children's party options, special classes for youngsters, and specially priced family memberships. A coupon with a free half-day pass can get families in the door to experience how engaging climbing is for kids and/or the entire family.
Group Discounts: Discounted rate offers for religious organizations, youth groups, teams, and schools help build local awareness and share the climbing experience with the younger set.
Member Mailings: Renewal mailings remind current customers that memberships are coming due. Engage them with early renewal deals or special packages. Lapsed customer mailings featuring special offers can encourage their return. Create a Loyalty Program (complete with a great-looking card) to reward customers who refer new members and thank them with little perks at key times of the year.
Member Referral Cards. Word of mouth is the best advertisement. Mail or give members special day or half-day passes to share with friends and family to experience the gym with their pal/loved one.
Local Events. Fairs, festivals, and charitable events are an excellent way to get involved with your community and build your presence. Find out how you can sponsor local sporting, competitive, and family events. Event tables/booths enable you to engage prospects and hand them a free day or half-day pass to get them in the door. If a local charity has an auction, donate a special package. Besides the goodwill, this promotes your name and gets new people into your gym.
What to Mail
Postcards. The longtime go-to mailer, standard and oversized paper postcards can help drive special offers. (They're also easily distributed at events, left at schools, etc.)
Plastic Postcards. The go-to gets better: Plastic postcards deliver a 24-38% higher redemption rate than paper! This high-performing format lets you easily include perf out coupons, passes, cards, and key tags (for promotions, membership, and loyalty programs). Plastic postcards not only stand out in the mail, but their greater perceived value also makes them a keeper and promotes easy redemption. Perf off coupons/tags also work great for member referral cards.
Flyers & Letters. Include a coupon or a code promoting a free half-day pass to experience climbing at your gym. (Flyers can be designed as self-mailers to avoid the added expense of envelopes.)
Continue branding after customers come through the door. Keep your look consistent and appealing by branding your lead and belay cards too.
Enhance your direct marketing efforts! Contact one of PermaCard's' experienced account managers for more information and This email address is being protected from spambots. You need JavaScript enabled to view it. of plastic postcards, key tags, and attractive branded belay and lead cards for ideas and inspiration. PermaCard also offers This email address is being protected from spambots. You need JavaScript enabled to view it. for convenient one-stop shopping, so be sure to ask for samples designed by our talented in-house team as well.