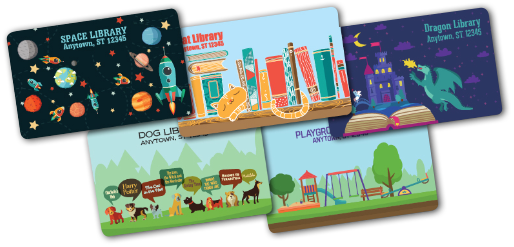 Children's Library Cards: The Impact of Kid-Friendly Designs
How old were you when you got your first library card? Can you remember what it looked like? If you're thinking, "Hmm…?," you're not alone. And, if you do have fond memories, do you vividly recall the card?
With summer upon us and many parents looking for activities to engage their children, libraries are a perfect match (and a great way to beat the heat!) This is an especially fitting time for libraries to consider creating cards and key tags for the younger set.
When a library offers a kid-friendly design, it sets a tone that helps foster meaningful patronage for the future. Cartoon lions, smiling books, flowers, balloons, bright colors and even designs created by kids in your area will help build a bond with youngsters and provide a memorable, nostalgic experience the next generation will look back on fondly.
Beyond introducing children to all their library has to offer, according to the non-profit organization Every Library1, library cards teach children:
How to participate in civil society. The cards serve as an early signal of how we are part of a larger community.
How to keep important documents and objects safe and handy. Besides keeping their library card in a safe place, it also enables kids to learn how to value meaningful objects (books, DVDs, etc.) and take special care of them for the eventual use by others.
How to become a good borrower. This entails not only becoming conscious of due dates and the amount of time one can enjoy a borrowed book or other media, it also teaches youngsters to empathize that other children are waiting to borrow the material.
How to accept consequences. Children learn the effects of ignoring responsibilities if books are overdue, lost or damaged.
How to choose thoughtfully. The library offers endless options and their card provides an opportunity for kids to learn moderation and decision-making skills.
How the system works -- if we're responsible together. The card symbolizes a world that takes responsibility for helping all people become more knowledgeable, better informed, and wiser. Libraries are places of discovery, to learn about all the things that make us human, if the majority of people use it accordingly.
One little card can have such tremendous impact on a child's life. Making library card designs more appealing to kids is an easy-to-implement step to fostering a far greater end result.
To learn more about cost-effectively creating library cards for children, contact one of PermaCard's' experienced account managers for more information and to This email address is being protected from spambots. You need JavaScript enabled to view it. to see how kid-centric designs can enhance your library's image and help create a lifelong bond for the next generation. PermaCard also offers This email address is being protected from spambots. You need JavaScript enabled to view it. for convenient one-stop shopping, so be sure to ask for sample cards designed by our talented in-house team as well.
-------------------------------
1 Reference: Every Library: How Their First Library Card Teaches Kids Responsibility.