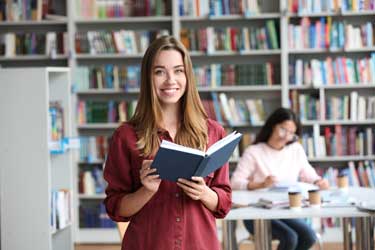 Branding By the Books
Update & Build Your Library's Image
Regardless of being public or academic based, a library is still a business. Just like any other business, branding is essential to keep up with the times and offer a consistent experience for those utilizing all you offer. Whether serving students, patrons, or both, your library plays a vital role in your community and properly positioning your organization is of the utmost importance. It's time to look beyond your shelves and make sure you are conveying a strong, appropriate, and consistent message in all you do.
Granted, most libraries and library systems don't have the luxury of cushy advertising and marketing budgets, yet with some effort, you can successfully build your library's brand. In the case of a school library, you'll need to recognize your college or university's brand and develop yours to align with the institution.
Here are some easy to execute ways to implement and maintain an on-going presence with your fans:
Where to Start?
There's no need to overthink, just be clear in your brand message. This is essential because it summarizes how users perceive your library, services, and ultimately, is a reflection of your reputation. It also aids in attracting new users and members, plus provides your employees with the essence of your mission to motivate and guide them.
Review What Others Are Doing
Whether it's a product or service that you particularly like and respond well to or another library elsewhere in the country, review the elements of their branding. This includes their web site, marketing materials, membership or library cards, advertising, and social media. What is their brand story? How are they conveying it through these channels and do you see a consistent message? What appeals to you in the look and feel? What tone or voice do they use in their messaging?
For a look at Harvard Library's organized and well-executed branding click here for their brand guidelines which they share with the public. While you may not be an Ivy League institution, this provides helpful information for the elements and structure of your own branding efforts.
Look Within Your Organization
Keys to building your library's unique brand lie in its logo, mission, culture, vision for the future, design, and communication.
Review your current branding, including:
Logo
Physical space
Library Card
Signage
Social Media
Web Site and Online Tools
Ask yourself (and colleagues) these questions:
What elements are in need of an update?
Is the logo dated or do some materials still reflect an older one from years past?
Is the color palette in your space and materials dull or inconsistent with colors dropped/added over the years?
Does your library card need a new look – including logo, font, and/or color scheme updates? Is there a new tagline or mission to add to it to foster your brand identity?
Is signage in need of any updates to match designs, colors, and font styles?
Do print materials follow a consistent look and tone?
Does your web site and social media also coordinate with the library's look and "voice"?
Determine whether your current branding is consistent and identify areas for improvement. Bear in mind that your users' digital experience is just as important as their brand experience in your physical space.
Updating Your Environment & Materials
Once you've reviewed the points above, focus on the physical elements. Consider your library's entrance, interior, circulation desk, shelves, and public meeting rooms. What can be done with colors, graphics, and signage to bring a unique and consistent image to the space? If there's a renovation budget, upgrade flooring and/or seating in a color that coordinates with your brand's palette. Staff IDs should reflect your brand image as well.
Along with integrating cohesive elements in to the physical library, you must extend the look and feel to all your print materials as well as your web site and any digital tools you offer. In the digital world, matching colors, images, and fonts to reflect your overall brand image is essential. This includes applying the same color palette, images, and tone to your social media pages and posts. Consistency is key in all channels.
Last But Not Least, It's All in the Cards
Your library card serves as a constant reminder of your image, one that your patrons always carry with them in their wallet or bookbag. Your card immediately conveys your image and so it is extremely important that you carry through the look and feel of your branding onto this important at-a-glance promotional tool. Yes, your card is not just for accessing books, it's about putting your brand out there as well! You can even include a handy key tag version of your new card – again, another way to enforce your brand image right on your users' keychains. A simple Google search of "library card designs" will yield some fascinating looks utilized by libraries across the nation.
If your library is looking to build and enhance its branding and requires attractive, high quality library cards, contact one of PermaCard's experienced account managers for more ideas and to receive a sample pack of library and membership cards for reference and inspiration.