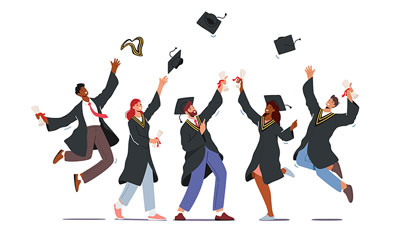 Alumni Association Materials That Engage Support
At PermaCard, we work with college and university alumni associations in a variety of ways. From complete membership kits or components, we meet the needs of higher education institutions nationwide. Be it turnkey products and services or integral package elements, we provide expertise and quality materials for membership, fundraising, promotions, networking, and events, enhancing an institution's image and alumni engagement.
Creative Ways to Engage Alumni
Promoting a school's team spirit or events can be made easy with appealing stickers, magnets, tickets, or luggage tags imprinted with logos, mascots, team colors, or other messaging. Our diverse array of eye-catching, creative materials enhances the alumni membership experience, fondly reminding them of your institution regularly!
Stickers Besides showcasing your university's image overall, colorful and attractive stickers are a great way to highlight graduate programs within your institution, such as business, medical, nursing, and law schools.
Tickets Commemorative laminated sporting event tickets mark important games with longtime rivals, creating an appreciated keepsake for team boosters and former players.
Magnets The perfect way to display your teams' seasonal schedules or music and theater departments' concerts and performances, handy magnets are available in a variety of sizes and serve as a welcome reminder to your alumni and donors.
Luggage Tags Alumni can travel in style, sporting their school spirit and support with smart, convenient luggage tags -- a nice perk for alumni association members that bolsters your name and image wherever they go.
Putting the Fun & Funds in Fundraising
Effective fundraising materials are vital to all educational institutions. At PermaCard, we create compelling programs with our Fundraising Card Sets that engage alumni -- well beyond standard letters with business reply envelopes or a follow-up thank you note. Our laminated full-color designs are available in different formats to feature fundraising messaging, along with perf-off coupons for local businesses and services (even those owned by other alums) or perf-off ticket vouchers for an upcoming college football or basketball game, concert, or show as a way of thanking donors.
Cards Make Membership Matter
Membership cards secure the connection with alumni association members. Cards evoke a sense of still belonging to your institution and further encourage the bond between your institution and former student for a new level of involvement and engagement. Be sure to include a few short bullets with alumni benefits on the back of your card to remind them of the various ways they can stay involved and support your school. Membership cards and kits can be created in-house or outsourced in full, or by the components you need. Below are two alumni-friendly options utilized by PermaCard customers.
LaserWell®: Great Looking Membership Kits Made In-House & Easy
For smaller institutions or those with in-house staff up to the task of membership package creation and fulfillment, our technologically advanced LaserWell® product provides a professional-looking, hassle-free solution. With a more substantial 8-mil synthetic card (versus the flimsy paper ones found in lesser products), LaserWell sheets easily feed through most laser printers as the attached card neatly sits in a debossed well for smooth sailing – smooth printing, that is! The glue-free cards cleanly and easily come off the sheet to go right into the wallets of alumni. LaserWell comes in 6 formats and can be preprinted with four-color letterhead, cards, and/or letters, or come blank or with preprinted elements so you can create winning alumni membership and renewal mailings right in-house.
Outsourced Professional Membership Cards & Packages with Standout Style
Sleek, substantial 20 or 30-mil plastic membership cards give your alumni a true sense of belonging. For added impact, PermaCard features Membership Mailers in versatile formats that can also include perf-off cards, key tags, and more, to provide alumni with easy access to utilize member benefits and encourage them to be more active. The captivating plastic mailer slips neatly into a standard double window envelope on its own or can be part of a membership kit that can include a letter, brochure, car stickers, or other inserts to appeal to your alumni and secure the ongoing relationship. Cards and mailers can be shipped to your team for fulfillment or PermaCard can handle membership kit creation, personalization, and mailings from start to finish.
Keep alumni engaged and supporting your school!
PermaCard's professionals can work with you to create essential materials and programs that resonate with your alumni. Contact one of our experienced account managers for more information and to This email address is being protected from spambots. You need JavaScript enabled to view it. for reference and inspiration. For convenient one-stop shopping, PermaCard can provide This email address is being protected from spambots. You need JavaScript enabled to view it. so be sure to ask for membership and fundraising samples designed by our talented in-house team as well.