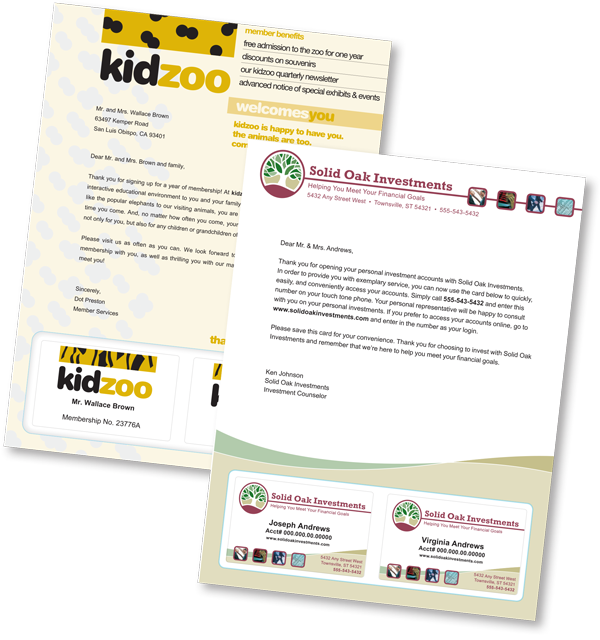 A Superior, Simplified Solution for In-house Membership Kit Fulfillment
Membership-based organizations know that timely mailing of new member and renewal materials is critical to their success. To accomplish this, they either outsource the task and related materials or do it in-house, printing on-demand. Those organizations fulfilling membership kits internally are well aware of the challenges. First, there's the need to prep a professional looking kit to pop into the mail as soon as possible and second, they face a process that can grow more time-consuming and less cost-effective as staffers wrangle with printer jams and wasted materials.
PermaCard is happy to report that in-house membership kit production and fulfillment can be executed more efficiently by simply making the switch to a more advanced product. While many of our customers utilize our expert services to create personalized cards, insert membership materials into envelopes, and mail, we recognize that other organizations are tackling kits on their own. We understand the struggle is real and that's why we are pleased to offer LaserWell®, the perfect option for those utilizing laser printers to fulfill their membership kits.
Because jams should only be associated with toast.
We've heard it before. Organizational staff -- who could be focusing on more pressing tasks at hand -- spending their time printing (and often reprinting) cards because they get stuck in the printer. Just imagine swiftly completing on-demand printing without jams. Specially designed to breeze through laser printers, LaserWell enables crisp personalization and barcode printing. The cards feature a proprietary coating that bonds with toner for sharp, lasting text and images, plus accommodates inked signatures, when needed.
What's the secret to smoother printing? The high-tech patented document design includes a debossed "well." That's a slim cavity into which an 8 mil synthetic plastic membership card is affixed. This makes the overall document coplanar. In other words, everything smoothly aligns with the letter/document sheet so it prints jam-free. LaserWell is highly compatible with most Canon, HP, Konica Minolta, Lexmark, and Samsung laser printers.
Out of the database & into member wallets more quickly.
Whether you're printing batches or one card at time, LaserWell easily meets your scheduling needs. The membership card documents can be manually fed one at a time for on-demand printing or processed in bulk from a printer's paper tray. The result is higher staff productivity, faster fulfillment, and lower usage costs. LaserWell membership/ID cards are manufactured in a recyclable, synthetic plastic that is heat, tear, and water resistant. This sturdy construction results in cost-savings over time, as the longer lasting cards require less frequent reprocessing and replacement.
Flexible options to suit your organization's brand/identity.
LaserWell cards can also be pre-printed in full color to reflect your business image for a professional design that stands out in members' wallets, making your organization instantly identifiable. Additionally, the entire document sheet can be pre-printed in full color on both sides, for a truly custom look offering a smart upgrade to in-house fulfillment.
LaserWell® Benefits Summary
Create superior cards in-house. Patented laser printer-friendly design features a slim 8 mil synthetic plastic card affixed to a debossed well.
Jam-free printing. Smooth processing through popular laser printers.
No more glue globs. Proprietary design and technology leave the card clean and residue-free when detached from the letter.
Saves time and money. Durable heat, tear, and water resistant cards last longer.
Meets a variety of needs. Available blank or pre-printed on a variety of paper stocks, in 2 thicknesses and 4 formats.
From jam-free printing to high-quality ink coverage to image-enhancing full color designs, all benefits combined make LaserWell an exceptional print-on-demand card solution membership organizations can rely on.
To discover how LaserWell® can be your membership program's answer to simplified kit fulfillment, contact one of PermaCard's experienced account managers for more information and This email address is being protected from spambots. You need JavaScript enabled to view it. to see how this technologically advanced, laser printer-friendly product can work for your in-house efforts. PermaCard also offers This email address is being protected from spambots. You need JavaScript enabled to view it. for convenient one-stop shopping, so be sure to ask for LaserWell® samples designed by our talented in-house team as well.